Serie
Características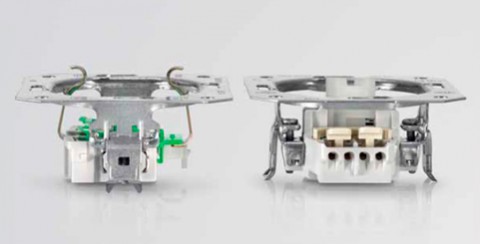 Mechanisms
It is a known fact that any simple installation starts with the mechanisms, which is why we have designed our mechanisms to make the installer's work as easy as possible. Anyone who needs to decide which mechanisms (switches and sockets) to use will always get it right with the mechanisms: the press-system fixing the switches and covers to the frames and mechanisms is practical, fast, safe and very versatile. It fits all switch and socket ranges, meaning means that the work can be done with complete professionalism and less effort, keeping the customers satisfied.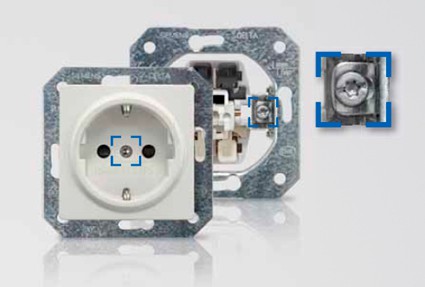 Mechanism with screws for Torx T10
The mechanisms for pushbuttons and switches in all ranges of products are available with the effective combination of screws for Torx T10 or flat screwdriver, offering numerous advantages when installing. For example the screwdriver will no longer slip on the screw when tightening, which is particularly useful when the installer has to be in a very awkward position. The whole installation requires less time and effort, which means lower costs.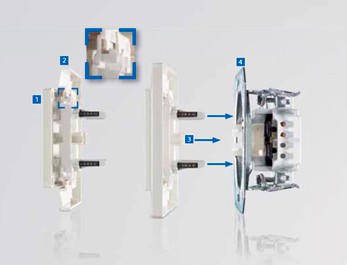 Exclusive, sophisticated and effective plug-in system
The well proven plug-in system housed between the mechanism and the switch solves the problems of poor switch operation in complex installations; for example, when there is little margin to adjust the flush mechanisms to the surface or plaster, or when the mechanisms end up twisted on the wall. The consequence in both cases is that the switch fails to work properly, especially in multiple combinations in frames of 3 or more elements. In the switch is press-adjusted to the frame, forming a single unit. This guarantees greater reliability even if the mechanisms have been built in unevenly. They will always be well adjusted to 3 mm walls and can be installed and uninstalled rapidly, even in difficult conditions. The switch guide's special design allows imperfect mechanism positions and excessively large spaces in the wall to be compensated, preventing the need for touching up the work in the customer's home later, saving you much time and effort.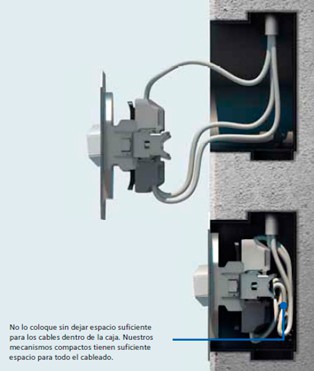 Compact mechanisms. Size matters in installations.
Designed to be practical in any installation. The switch mechanism base has a particularly compact design that allows more space for the wires in the built-in box. Make only a few simple operations to install our mechanisms, which are fixed perfectly to the wall. The double connection terminals are clearly set out on one side, making connection faster and simpler. Anyone who has installed flush series knows how difficult it sometimes is to release the terminal conductors. Our mechanisms have easily accessible ergonomic release tabs, only a little pressure is required. All pieces under voltage are covered with isolating material surrounding them entirely and protecting users from all possible discharges. They offer good protection even if the designed piece is removed, for instance, to paint or paper. However, as the switches and sockets are of standard peeled cable length, the length does not have to be readjusted to the tool, making installation simpler and more reliable.

Modular concept to facilitate replacement and renewal.
Whether further functions are to be incorporated or components are to be replaced, the modular concept and plug-in technology make the work easier. Our socket outlets are modular, which means that a single mechanism allows for more functions, such as overload protection, service indicator or EIB KNX socket outlet, simply by replacing and adding the corresponding modules. This means that an already installed socket can be modernised at any time. The modular concept of the unit is practical and saves time and money. For switches with a window (LED, neon or incandescent lamps) these can be easily connected from the front, so there is no need to dismantle the installed unit to change them, avoiding dirt even while the operation is being done.

IP44 standard protection.
IP44 protection can also be achieved without changing the frames in Miro and the Style range. Whether for use in a bathroom, on terraces or in a cellar, all you need is a set of seals. The Style series are also suitable for surface assembly thanks to their special box with a single, double or triple design, and in combination with IP44, it becomes a unique unit.
Can we help you?
You can contact our customer attention service by telephone:
or send an electronic mail on the following form